Catalog of Bhutan Postal Stationery


Air Letters / Aerogrammes



ca. 1970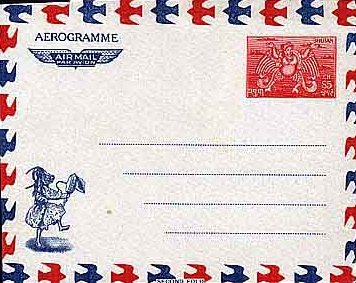 | | | | | |
| --- | --- | --- | --- | --- |
| 1. | 85ch | red on pale blue | -,-- | -,-- |
First day of issue not known.
Earliest known use: 20 March 1970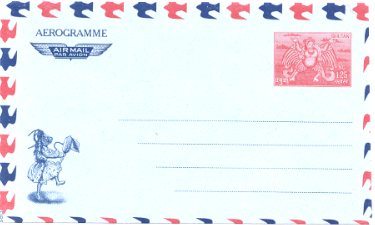 | | | | | |
| --- | --- | --- | --- | --- |
| 2. | 1,25ch | red on pale blue | -,-- | -,-- |
First day of issue not known.
Earliest known cancellation: 10 Feb 1977 (philatelic cancel at Phuntsholing)


Surcharged to 1.50 Nu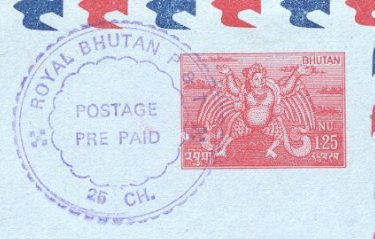 | | | | | |
| --- | --- | --- | --- | --- |
| 3. | 1,25ch + 25ch | purple on Nr. 2 | -,-- | -,-- |
First day of issue not known.
No use examples known.
8 mint copies reported.
Between issuance of No. 3 and 1 Feb 1989 (when the aerogram rate
was at 3.50Nu), aerograms were uprated by the addition of various
adhesive stamps. Rates of Nu 2.45 and Nu 2.50 (Nov. 1984) are known.
ca. 1989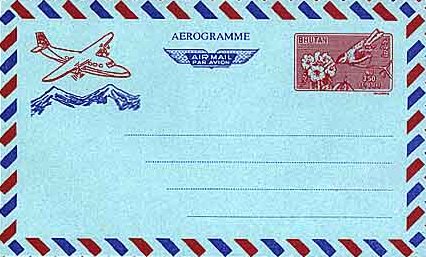 | | | | | |
| --- | --- | --- | --- | --- |
| 4. | 3,50Nu | red on pale blue | -,-- | -,-- |
First day of issue not known.
Earliest known cancellation: "1 EEP 89" at Phuntsholing. (could be damaged "FEB" or "SEP")