International Philatelic Federation (FIP) has announced that the 2003 FIP Philatelic Web Site Evaluations have been canceled. The need for this action became apparent following examination of the time needed to meet the needs of these evaluations and also the requirements of the other duties of the primary participants in these evaluations.
There have been four FIP Philatelic Web site evaluations to date, beginning in 1999. In each year the web sites entered were awarded a ranking of Two Stars, Three Stars or Top 5%. From the last group, one was selected by the panel as the Best Philatelic Web Site. Logos appropriate to the results were authorized by the FIP for display on the sites that received them.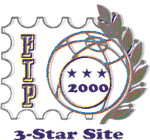 Japhila e-zine is authorised to display this logo - Results of the 2000 FIP Philatelic Web Site Evaluation
It is anticipated that, after further study, these evaluations may be resumed in 2004.
However the report of the 63rd FIP Board meeting on June 8 and 9, 2003 at Mulhouse (France) states that the competition was cancelled for financial reasons.
The report says 'immediate steps were taken to control expenditure and the board agreed to set up a procedure to manage finances. During the past year it was clear FIP was not getting the mileage from its expenditure on the FIP website and computer-related items. Steps have been taken to stop unnecessary expenditure here. Similarly FIP's expenditure on World Association for the Development of Philately (WADP) and OLYMPHILEX activities which did not yield satisfactory results on returns has been reviewed. All in all, it was noted that what has been spent the last two years cannot be retrieved, but in the New Year unnecessary or unwise expenditure has been stopped.'
(english text from Stamps of India)
BRETISLAV JANIK, Prague, August 11, 2003